The Page of Cups is the Princess of the Waters and the Lotus of the Palace of the Floods.
This card denotes a dreamy child, sensitive, artistic and open.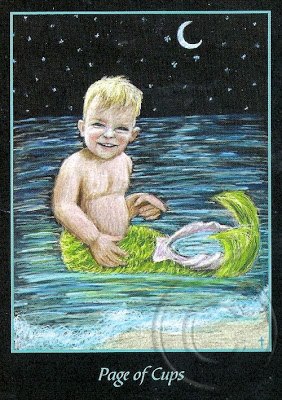 They are psychic sponges so it is important to provide a positive and nurturing environment where they can enjoy their fantasies.
Listen to their fears - both real and imagined - and acknowledge those fears with your understanding and your compassion.
This card also heralds an increase in your own intuition, and much vivid dreaming.
A time when your heart opens and you are ready to receive love fully, and you will find it intoxicating. Emotional freedom and the release of toxic emotions and situations is possible now.
Trust in your gut feelings and finally saying 'Yes!' to you.
Also indicates happy news on its way in matters of the heart.
Image from "Twilight Realm: A Tarot of Faery" by Beth Wilder