The Ten of Wands which is aligned with Saturn in Sagittarius.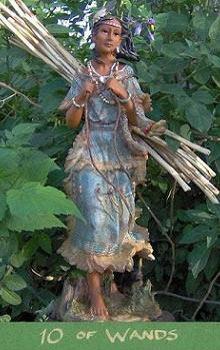 Saturn here has a dampening effect on the expansiveness and enthusiasm of Sagittarius and brings to light the burdens inherent in seeking worthy goals.
The toll of seeking and achieving success becomes apparent now – weary and overwhelmed, feeling the pressure and the strain of disapproval saps your energy and is disheartening, but ultimately this is self-repression.
Step back and refocus on what is most important, what is achievable now, and which activities will bring the most benefit.
Remember the Pareto principle – 80 percent of your results come from 20 percent of your effort.
Find the 20.
Time to get something off your chest and clear the air.
Loosen the reigns of control you have over life now, learn to relax, meditate and find your joy again.
Image from "10 of Wands" by Fulgour