The Ten of Cups is the Lord of Perfected Success and is aligned with Mars in Pisces. It represents ultimate happiness, open heartedness and bliss.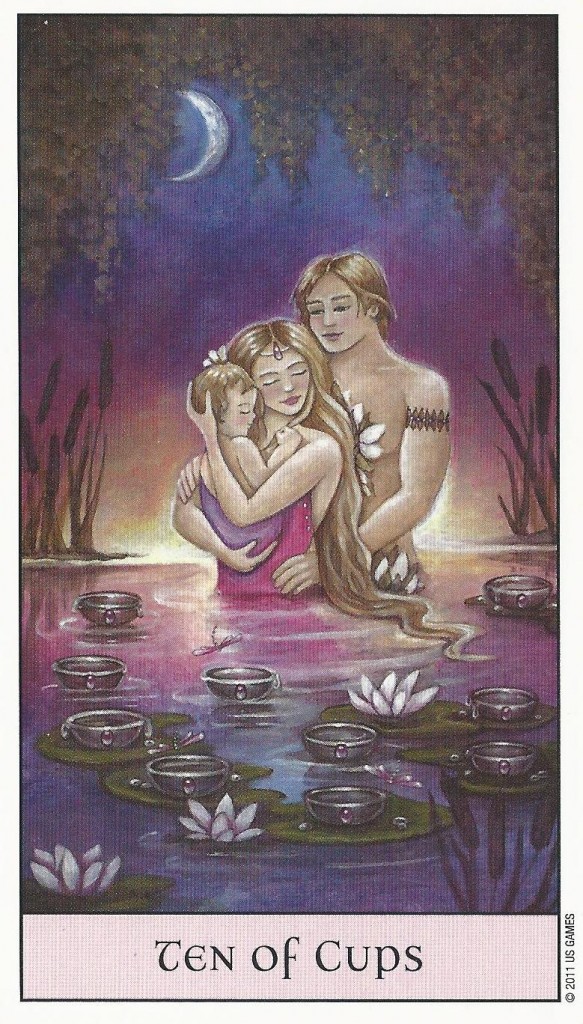 The Ten of Cups is a beautiful card to turn up in a reading – it speaks of emotional completion, perfection of the human heart, and the stage where one can stop searching for true bliss for surely you have found it here.
It is the happily ever after fairytale ending that is promised in the best of fairytale romances and is arguably one of the most desired cards in the Tarot – after all, who wouldn't want ongoing happiness and bliss in life?
There is not only romantic happiness, but happiness at home, with the family and wherever and whatever your heart is close to. It is a resting place and a haven.
Work and career achievements and acknowledgement flows to you and your health is resilient allowing you to enjoy the good times and events that will land in your lap now. Money is available in amounts that are useful to you so that you feel fully supported by an abundant Universe.
And yet we must remember that all cycles revolve, starting and ending ever anew. Nothing ever stops and rests forever, energy is forever moving and while you rest on this card as a welcome respite and reward for whatever troubles you have experienced in the past, remember that you must again move on and forward and start a new cycle.
One must always have something to look forward to, but before you move on from the blessings in this moment, make sure you savour all the good things that it brings. The next cycle you embark on will ultimately bring you here again.
So whatever happens ahead in life, this card will serve as a reminder of happy times and a promise of future happiness and contentment.
Image from "Crystal Visions Tarot" ©  Jennifer Galasso.