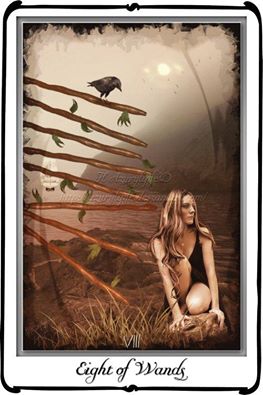 Known also as the Lord of Swiftness, the Eight of Wands is aligned with Mercury in Sagittarius and represents clear, swift communication and action. Mercury is the planet that rules communication and activity, while Sagittarius is involved with expansion, directness and truth, so don't be surprised if life takes some surprising turns and advances in a lightning fashion.
The struggles that were seen in the Seven are now behind you, and this realisation releases a flurry of creative activity and freedom that can be exhilarating. There is a leaving behind of anxiety and struggle and it appears that the way is now clear for you to make exciting progress.
This card often signifies new horizons, and this can be in a metaphorical way, such as with new opportunities that see your life change for the better, or in a literal way, which means that travel is on the cards. This card brings a longing for freedom and the means to achieve that freedom, so don't go napping and miss the signs!
You have struggled, stressed, worked hard, and pushed against a seemingly unmovable object to make progress, and the sudden lightening of these burdens will be a welcome surprise to you, because you were beginning to lose hope and with that any chance at happiness and freedom.
There is excitement, variety and a whirlwind of activity, so do be sure to take your vitamins and catch up enough sleep, because you will need all of your energy to keep up with events that are happening now. If you have a pattern of procrastination or indirectly communicating your desires, it is time to change those habits which hold you back out of fear of consequence or offending. Do what you say and cut to the chase with all of your dealings and you stand to make the most out of the favourable influences of this card.
This is not the time to make compromises, but stand up for what you believe in, whether that is popular or not. You need to honour your truth and express yourself honestly and openly. Trust your power.
Image "Eight of Wands" © azurylipfe.deviantart.com