The Hanged Man is associated with Neptune – that planet of illusion and ecstatic vision.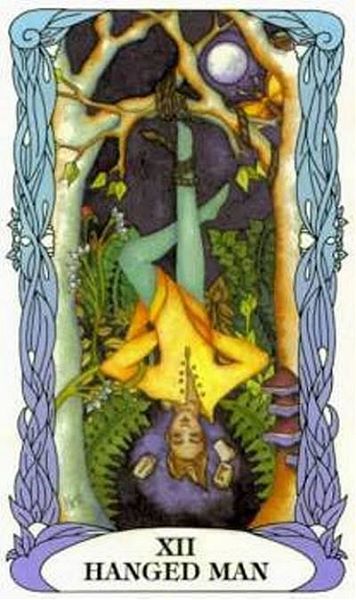 At this point in time you feel you have come to the end of a situation and now do not know where to turn.
Breaking old patterns and seeing clearly, perhaps for the first time, is possible now but it requires you to let go of what you know (or what you think you know).
Although an uncomfortable place to find yourself, it's actually a great place to be because a true breakthrough is possible now that can change your whole life.
It feels as though the break for you is around a work or creative situation, although The Hanged Man can also point to a relationship that no longer works, a living situation that has become unbearable or a way of thinking that no longer serves you at your highest good.
What do you need to let go of now to be free?
What perceptions, ideas and beliefs are holding you back from who you truly are?
Time to pause, breathe, and let go to make way for something new!
Image from "Tarot of a Moon Garden" by Karen Marie Sweikhardt